---
Are you damaging
your wedding ring?
---
Engagement and wedding rings can be expensive and be damaged over time. We have the perfect solution to protect your special ring.
Have you put much thought into the wear and tear you are putting on your wedding ring?
As you go throughout your day, your hand brushes on clothing, gets washed with soap and water, and faces the eroding effects of skin oils. Not to mention when you take your ring off to conserve it, you put your ring at risk of loss or theft. A wedding ring is one of the biggest and first investments a married couple makes. Don't you think it deserves better care?
Myth: Diamonds Cannot Chip
Although diamonds are known for being the strongest material on Earth (myth debunked here), they can, and frequently, chip. Once a diamond is chipped, it's value plummets and the only option is an expensive fix or replacement.
Myth: Diamonds will Always Look Clear and Sparkly
Cleaning products, skin oils, lotion, and soap are all things women come in contact with daily, and also happen to be the most damaging to diamonds. When exposed to any of these things over time, diamonds become discolored, dull, and cloudy. Leaving a once sparkly, prized possession, dull and lifeless.
Myth: Stones Are Safe in Their Setting
Do you have insurance on your ring or the cash to shell out for a new diamond? Getting a wedding ring serviced every six months is the only way to prevent weak prongs breaking, causing the diamond to fall out of it's setting.
Myth: Take Your Ring Off to Put On Lotion
Slipping a wedding ring off to wash hands, do the dishes, or put lotion on, and a few hours later you realize you have no idea where it is. Sound familiar to anyone? Rings are most vulnerable to loss and theft when they are taken off and not kept in a safe place.
There Has to be a Better Solution...
You love your wedding ring, so treat it better. Instead of making it vulnerable, save it for special occasions. A diamond is not meant to be worn every day. Purchase a simulated diamond that is a replica of your original wedding ring, or get one that is more like your dream ring, or an alternative style. Check out these high-quality simulated diamonds and conserve your wedding ring today!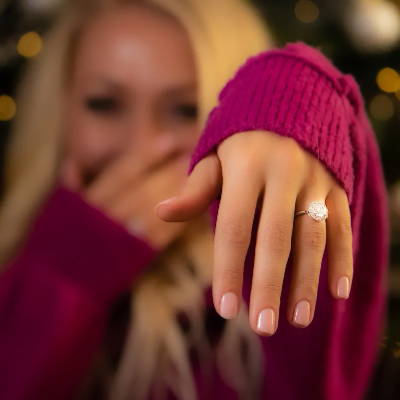 Read what our customers have to say:
We love our earrings and wear them all the time for long periods of time without any irritation or discomfort! Don't just take our word for it, read what others are saying about Starlette Galleria earrings.
⭐⭐⭐⭐⭐
SO sparkly!
I absolutely love this ring! I bought it to be a back-up for my wedding ring (for when it is being cleaned, or when I am on vacation and don't want to bring my expensive jewelry). But, now that I have it, I find myself wanting to wear it every day! It is seriously so much prettier in person, too. Fits true to size, as well! – Amber S.
⭐⭐⭐⭐⭐
Stunning in Silver
This ring fulfills all of my 4-carat diamond dreams for a fraction of the cost. I've ordered some beautiful rings from her before but this one makes me feel like an absolute Queen when I wear it. It's even more stunning in person than it was online with the quality to match. 10/10 would recommend this ring and Starlette Galleria. - Katie B.
⭐⭐⭐⭐⭐
We Love It
Like many of the other reviewers, I also ordered more than 1 of these rings (1 for me and 1 for my 14 yr old niece who is now just getting into jewelry). We both like simpler, understated, but pretty jewelry, and this ring didn't disappoint. My niece (who is very picky) absolutely loves it. The ring is simple but pretty and a good size even for our not-so-small fingers (neither of us have the little dainty fingers). Very comfortable to wear. Thank you for a great piece! – Peggy
⭐⭐⭐⭐⭐
Very Happy
I am very satisfied with this purchase. It looks very expensive, actually better that my 10K rose gold band with real diamond chips. I work in Healthcare and I needed something simple to wear everyday. The test will be if the vermeil holds up to that use. - Patricia
⭐⭐⭐⭐⭐
Gorgeous Stackable Ring!
I bought this ring to wear daily rather than my diamond band. The ring is beautiful and you can't tell that the stones aren't diamonds. I have trouble telling which of my rings is which! I have purchased 2 pieces from Starlette Galleria, both of which are exceptional quality. I will definitely be a repeat customer. – GKC
⭐⭐⭐⭐⭐
Perfect
I love this ring so much! I got it with the intent to honor my babies no longer with me. It's exactly what I wanted and is perfect! - Kelcey
"You are every reason, every hope and every dream I've ever had."
— Nicholas Sparks
There are so many to replacement engagement rings to choose from! Now you can try one with a discount.
Take 25% off your next purchase with the code BLOG.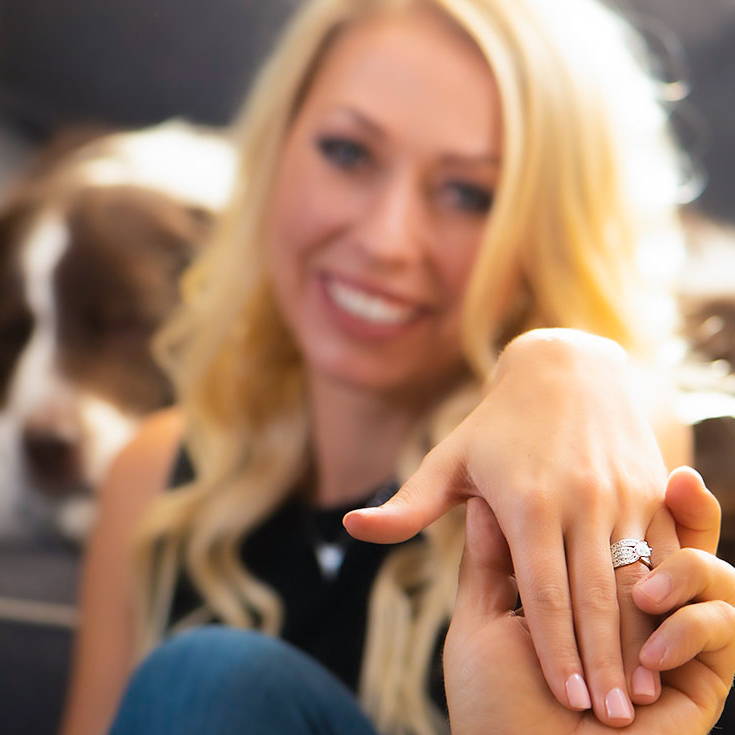 My name is Olivia and I am a connoisseur of luxury jewelry. But let's be honest, good jewelry that won't turn your skin green is expensive and sometimes still doesn't last. That is why I created this little space, for women just like you and me! We are serving up quality jewelry at a fraction of the price.
Please pin this post for later: