We are excited to feature Ellae, one of our awesome influencers.
Let's get to know one of our beautiful influencer friends from Instagram. Ellae!!! We asked her a couple of questions and she shared with us why she picked this amazing ring!
Tell us a little bit about yourself:
Hi, my name is Ellae the owner of the brand Naturallyellae. My brand focuses on my natural hair journey and my passion for makeup. I am a chronic illness warrior, and have been fighting Multiple Sclerosis for 10 years. That motivates me to search behind all the pain and see the beauty within it. I am more than my illness and my hair journey and my passion for makeup helped me to continue to grow in that mindset.
What does a self love ring mean to you?
To me it means that I can purchase a ring without it having a purpose of a "relationship" with someone else. It's okay to buy a ring for yourself and for it to have meaning to you personally.

Why did you pick the pearl ring?
I chose the pearl because, my dad helped me to see scripturally how valuable a pearl is and how I am that pearl. Never to sell myself short and see the value within myself.

How do like to style it?
The style is very pretty, dainty and classic. It intrigues others to want to know your story, because it's not often people choose a pearl instead of a diamond.
We love how Ellae wears in on the middle finger. We think every finger can wear a ring! It looks just stunning on her! Not to mention her completely beautiful look all together from head to fingertips!
What ring did Ellae pick?? This one!
What our customers saying:
More praise for this new pearl ring from another customer:
⭐️ ⭐️ ⭐️ ⭐️ ⭐️
"This ring has become one of my favorites-has an elegant classy look with just the right amount of sparkle." - Diane
Consider a self love ring for yourself:
Sometimes you really do need to treat yourself girl! It can be with a sparkly ring, or go for a classic look with a pearl ring like Ellae.
"Pearls are always appropriate."

— Jackie Kennedy
Want to get your hands on your own self-love ring? Now you can try one with a discount. Take 25% off your next purchase with the code BLOG.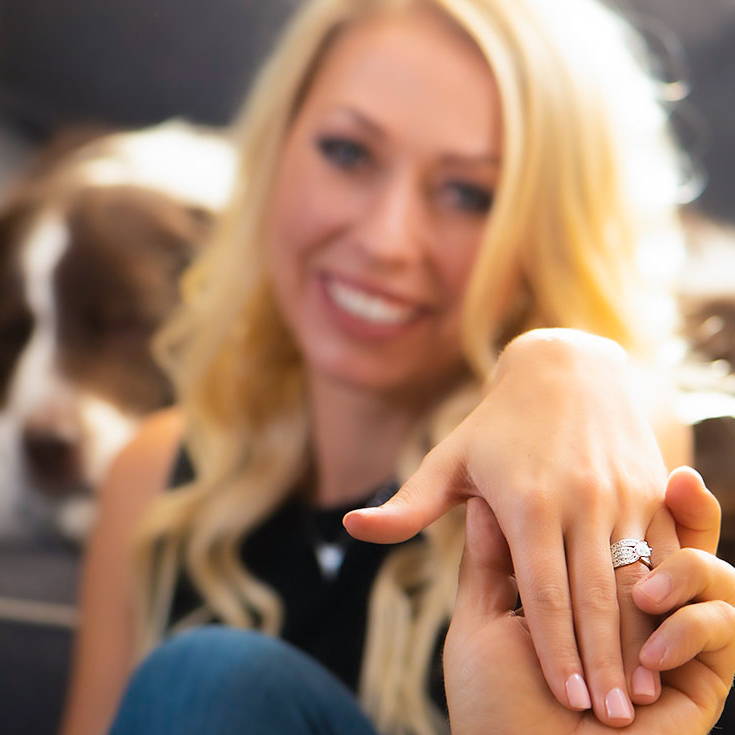 My name is Olivia and I am a connoisseur of luxury jewelry. But let's be honest, good jewelry that won't turn your skin green is expensive and sometimes still doesn't last. That is why I created this little space, for women just like you and me! We are serving up quality jewelry at a fraction of the price.
Please pin this post for later: