---
How much money should I spend on an engagement ring?
---
Engagement rings can be really expensive and become a financial burden. How much should you really spend on an engagement ring?
When it is time to get engaged, buying an engagement ring can be daunting. There are so many factors to consider when purchasing an engagement ring. Some of these factors include the price, style, material, personal preferences, and more. The most daunting can be home much to spend on an engagement ring. So how much are couples spending on engagement rings?
According to a study conducted by The Knot, the average cost of an engagement ring is $5,500. The averages varied among regions with some being slightly higher, up to $7,600. There are so many options for saving money on engagement rings and we can help you out. Let us dig deeper into four factors affecting how much couples are spending on engagement rings.
How much should I spend on an engagement ring?
1. Income. This is the number one consideration. The old rule of thumb was to spend two (or three) months of salary on an engagement ring. For example, a person making $5,000 a month, would spend $10,000 on an engagement ring. Wow, that is a lot of money. Especially when you factor in all of the other costs of living, housing, food, car, etc. And if that amount hasn't been saved for then the price of the ring would be an additional monthly expense.  
2. What others are spending. This is the keeping up with the Joneses mentality, but it is nice to have a beautiful ring to symbolize your love and dedication to one another. A wise decision would be to invest in a simulated diamond ring that fits personal style preferences and save money for other necessities. Our rings are 100% lab simulated diamonds. Read more about alternative engagement rings here, including how high quality our rings are. With Starlette Galleria, you can have the look you want without breaking the budget.
3. Age. The average age for marriage in the United States is between 25 and 30 according to Insider. This age group is still early in their careers. They might not have as much savings or may want to use their savings on a different purchase. There could still be student loan debt to take care of too.
4. What you could spend your engagement ring budget on. There are so many other ways to spend a large amount of money when getting engaged and married. Here are a few things to consider spending your ring budget on that could be a better long term investment:
Downpayment on a house

Downpayment on a car

Investments

Household items including furniture or appliances

A Honeymoon

Pay off debts (student loans, cars, etc.)
This brings us back to our question about how much should a couple spend on an engagement ring?Considering all of these factors, spending thousands on an engagement ring may not be the wisest decision. Start you marriage strong with a beautiful ring and avoid the unnecessary extra expense by buying a simulated diamond ring. Or take that ring budget and put that money to work for you in a different way.
Take a look at 10 of our favorite Engagement Rings under $200.
Or shop all of our engagement rings here.
Read what our customers have to say:
We love our earrings and wear them all the time for long periods of time without any irritation or discomfort! Don't just take our word for it, read what others are saying about Starlette Galleria earrings.
⭐⭐⭐⭐⭐
Absolutely Love My Rings
I recently came across Starlette Galleria via Instagram and I have to admit, I was a bit skeptical at first, but decided to order and see for myself how great the product was. When my rings arrived last week, I was so impressed with the quality for the price. I did a single ring and then 3 stackable rings and I love every single piece! I've already received so many compliments and people asking where I purchased them from. I'd definitely recommend to others and can't wait to see what other pieces come out as I'm sure it won't be long until I'm purchasing more. Thank you so much!! – Mary C.

⭐⭐⭐⭐⭐
SO sparkly!
I absolutely love this ring! I bought it to be a back-up for my wedding ring (for when it is being cleaned, or when I am on vacation and don't want to bring my expensive jewelry). But, now that I have it, I find myself wanting to wear it every day! It is seriously so much prettier in person, too. Fits true to size, as well! – Amber S.
 ⭐⭐⭐⭐⭐
Stunning in Silver
This ring fulfills all of my 4-carat diamond dreams for a fraction of the cost. I've ordered some beautiful rings from her before but this one makes me feel like an absolute Queen when I wear it. It's even more stunning in person than it was online with the quality to match. 10/10 would recommend this ring and Starlette Galleria. - Katie B.
""Engagement marks the end of a whirlwind romance and beginning of an eternal love story."
— Rajeev Ranjan
There are so many to choose from! Which ones are you excited to try? We want to help you get engaged and save even more money! Now you can grab an engagement ring with a discount. Take 25% off your next purchase with the code BLOG.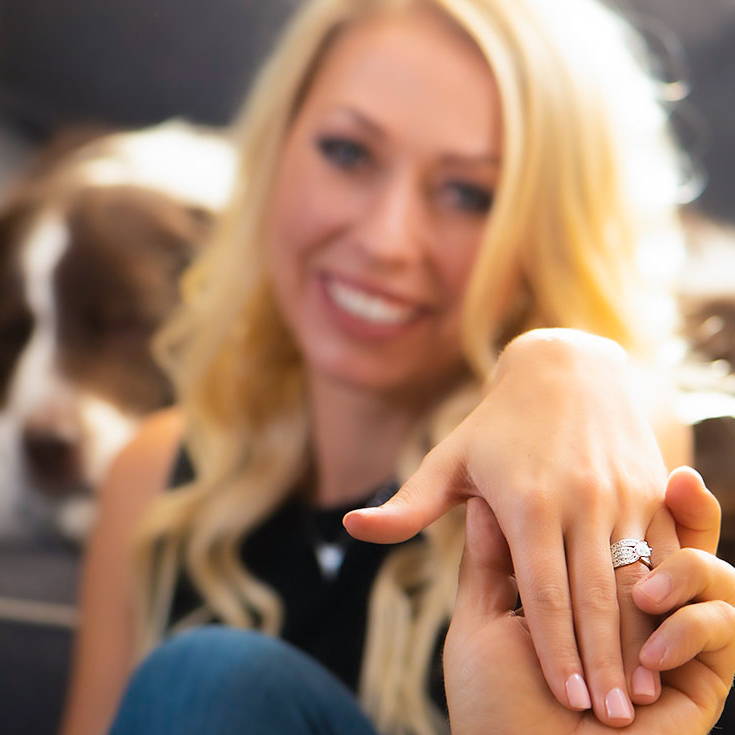 My name is Olivia and I am a connoisseur of luxury jewelry. But let's be honest, good jewelry that won't turn your skin green is expensive and sometimes still doesn't last. That is why I created this little space, for women just like you and me! We are serving up quality jewelry at a fraction of the price.
Please pin this post for later: