2020 was a year for the books, and we are sharing what you loved most from Starlette Galleria.
No matter how you felt about 2020, a little bit of sparkly jewelry made it better for us! Let's highlight a few of the trends we saw for our 2020 bestsellers:
1. Stackables were hot! There are quite a few stackables in this years top sellers. I can't just pick one ring to wear, so I totally understand. Plus, they are fun to mix, match, and switch up for new looks and stacks.
2. Princess Cut Rings. The top sellers for engagement rings were both princess cut center stones.
3. Rings stole the show this year. Like I said, I get it!!! I'm always wearing a bunch of rings. For 2020, 9 out of the 10 bestsellers were rings.
Let's highlight these beautiful pieces. Plus, we will share a review from each of our customers.
---
Number 10: 1.5 Carat Princess Cut Solitaire Ring. Go classic, simple, and let the beautiful princess cut center stone do the talking with this ring.
⭐️ ⭐️ ⭐️ ⭐️ ⭐️
Gorgeous ring, very sparkly and shiny. I recommend this ring to anyone interested in an affordable option or an alternative to wearing your expensive diamonds for every day. The quality is superb. - GKC
---
---
Number 8: Bezel Ear Cuff.
When you want to add a bit of extra bling without an extra piercing. Boom, this ear cuff will do the trick.
⭐️ ⭐️ ⭐️ ⭐️ ⭐️
I just have a single piercing, which can be a little blah at times. These cuffs give me the flexibility to add a little something and make me feel like I'm keeping up with the times! If you are like me with just a single piercing, you will love having this additional bling to go to when you're feeling sassy! They are gorgeous and add just the right amount of sparkly fun. xoxo. - Jen
---
Number 7: 2 Carat Princess Cut Double Halo. Looking for a gorgeous piece of bling. This one really sparkles.
⭐️ ⭐️ ⭐️ ⭐️ ⭐️
I love this ring! I got this ring because my wedding ring is too small for me. I've received many compliments on it. I just ask them so...how much do you think it costs. They don't believe me when I tell them. IT LOOKS REAL!💍 - Amy
---
Number 6: Basic Stackable.
The great thing about this beauty is that is comes in silver and rose gold!
⭐️ ⭐️ ⭐️ ⭐️ ⭐️
I ordered 3 of these rings. One for myself and others for gifts. This ring is gorgeous!! It shines bright and the silver looks like white gold. This will be great for travel when I do not want to wear my wedding rings. Just beautiful and classy. - Laine
---
---
Number 4: The Classic Band.
A true classic that goes well with so many rings. Wear it as a simple wedding band or as a completion to your ring stack.
⭐️ ⭐️ ⭐️ ⭐️ ⭐️
I was a little nervous about ordering a ring online, but decided to try it. The ring looks just like its picture. The size was just right. Looks like I paid much more for it. Very pleased. - Annette
---
---
Number 2: Emerald Cut Stackable.
Pretty and unique, add this beauty to your stack, wear it as a band, or even alone for a touch of sparkle.
⭐️ ⭐️ ⭐️ ⭐️ ⭐️
Beautiful ring! This ring just sparkles in the light. Great ring for a pinkie finger or to stack with other rings. I love this ring and highly recommend! - Eddie
---
Number 1: Infinity Braided Stackable.
This ring looks great alone or stacked and we loved that it now also comes in gold!!
⭐️ ⭐️ ⭐️ ⭐️ ⭐️
Beautiful ring, I love it! Purchased as a part of a stack. Wears well, looks like real diamonds, and is comfortable to wear. Nice quality ring. Difficult to find good quality anymore, so I'm happy with it!!! - Melissa
---
Which was your favorite bestseller from 2020? There are so many good ones to choose from! Which ones are you excited to try? Now you can grab your favorites with a discount. Take 25% off your next purchase with the code BLOG. 
Take a look at some of our favorite pieces:
Jewelry tells a story without even a single word –
A non-verbal communication of style.
— Michael, Rosey West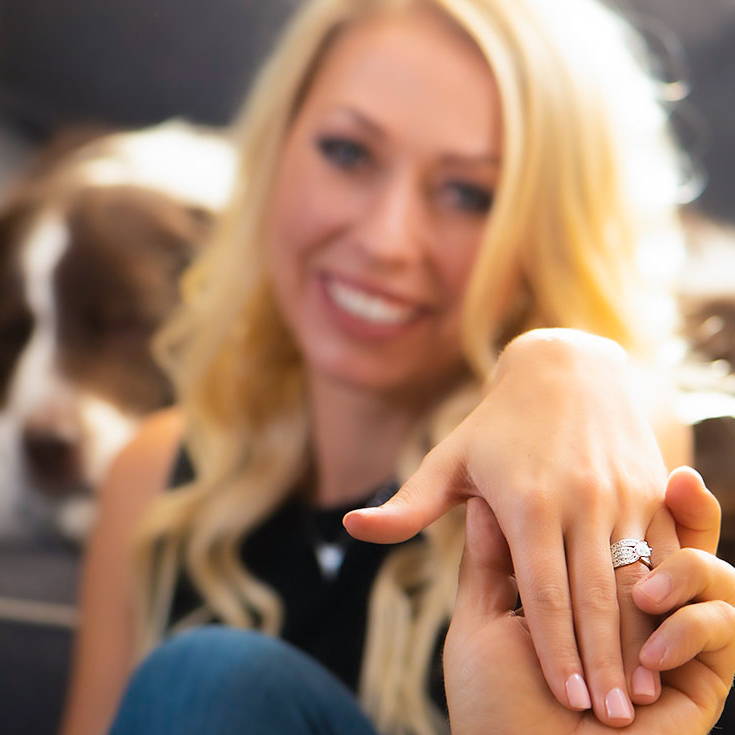 My name is Olivia and I am a connoisseur of luxury jewelry. But let's be honest, good jewelry that won't turn your skin green is expensive and sometimes still doesn't last. That is why I created this little space, for women just like you and me! We are serving up quality jewelry at a fraction of the price.
Please pin this post for later: